Plants and Equipments used in Construction Projects
List of various plants and equipments which are used in construction life is given below
Equipment for Excavation
Earthmoving Equipment
Hauling Equipment
Hoisting Equipment
Conveying Equipment
Pumping Equipment
Compacting Equipment
Pile Driving Equipment
Machineries for concrete works
Machineries for bituminous works
Dredging Equipment
Lets discuss all equipments step by step
1)Equipment for Excavation
Main Equipment used in excavation are classified as..
1)Power shovel
2)Dragline
3)Clamsell
4)Scoop
5)Trenching Machine
6)Hoe
1)Power Shovel
It used in all type of soil excavation and excavated soil is transported in wagons.
Power Shovel
Their are three type of power shovel
1.crawler mounted
2.Truck mounted
3.Wheel mounted
Boom is the made of iron and its main part of power shovel. The one end of boom is fixed with cabin and another is free. It also rotated in circular direction.
Dipper stick is hinge which boom and at the end of dipper stick dipper is place.
2)Dragline
Dragline
To carried out work below operating level, Dragline is used.
Dragline is used in moist soil or sandy soil.
It is the modified version of power shovel in which length of boom is increase.
3)Clamshell
Clamshell
Clamshell is used in loose soil,sand,bolders, aggregate,coal etc.
Clamshell consist two shells which jointed it one hinge and tooth are provided below shells. bucket is freely drop in material and then bucket is lifted up .
4)Trenching Machine
Trenching Machine
This type of machines are used in following purposes.
1.To dig a pipeline for water, oil, gas, etc.
2. Ditch the trench for the gutterline.
3. Dig a train in a waterlogged area.
4. Dig the telephone, electrical cables to dig.
5)Hoe
Hoe
Hoe is a mechanical device. The Hoe's teeth are on the driver's side. The duck has a dock-like plank for digging deeper. It can be mounted on a chain or tire vehicle. It can be rotated up, down or circle. It is an extremely useful tool for digging deep and narrow ditches.
2) Earthmoving Equipment
Earthmoving Equipment are classified as below.
1.Tractors
2.Bull dozers
3.Graders
4.Scrapers
5.Rippers
1.Tractors
Tractors
The tractor is powered by a diesel engine that has a maximum capacity of 20 HP to 200 HP.
The tractor is an excellent tool for moving clay. Various attachments to the tractor such as bulldozer pod, front shovel, rip , tanker can be played.
2 Bulldozers
Bulldozers
A bulldozer is a type of tractor with blade mounted on the front, with the help of the tractor's front material can be moved, pressed, cut.
It is an effective and efficient earhmover.
the bulldozer is useful for the following tasks:
1. clearing the soil with wood, stones, etc.
2.To create a pilot road in mountainous and rocky terrain.
3.To move the soil for a short distance (up to 300 m).
4.To spread the soil, to dig in the pits, to dig the ditch, to dig in the trench.
5.To repair the clay road.
3.Grader
Grader
Primary function of grader is to level and finishing the earthwork and secondary function is to maintenance of earth road.
4.Scrapers
Scrapers
Scraper is a machine in which material such as loading, hauling and dumpling can be performed.
Stepper has loading and hauling, but its performance is lower than shovel, dragline, belt loaders etc. Similarly in terms of hauling, its performance is lower than that of trucks.
But this tool is very useful as joint operations like loading, hauling, dumping can be done.
5.Ripper
Ripper
Reaper's task is to loosen solid clay or rocks. Preying and blasting takes a lot of time and costs a lot. But this task can cost less and half the cost of the ripper.
Reasons for increasing Reaper's utility are as follows:
1.Us a more powerful tractor.
2.Reaper's size and performance have improved.
3.Better tools for determining the rippability of a rock are available.
4.New techniques in the use of tools and machines.
3)hauling Equipments
Hauling Equipment are classified as below..
1.Trucks
2.Wagons
3.Dumpers
4.Cable ways
5.Aerial Tramways
1.Trucks
Trucks
Trucks are used for the transportation of clay, crust, stones, minerals, coal, etc. They are actually Freight equipment, with speed being more convenient for transporting to distant places.
2.Wagons
Wagons
The wagon usually picks up the material and place it at the middle so call it bottom dump wagons. it dont takes more time to dump the material.
3.Dumpers
Dumpers
Dumpers are trucks with special air-filled tires, capable of running very fast, with tricky chassis and strong bodies. Material can be dump to the front or back.
4.Cable way
Cable way
Cable way are used for long distance. Cost of cable is high but is economical at long distance. Tough,hard cable is used for material transportation.
5.Arial Tramway
Arial Tramway
The Aerial Tramway is a machine that hangs a bucket from the top of a wire rope between two pillars, carrying material to long distance in the bucket.
4)Hoisting Equipments
Hoisting Equipments are classified as below.
Deric – Pole
Tower crane
Gin – Pole
Shear leg
Crane
Latice girder
Power driven scotch derric crane
Winches.
Hand operated crane
Bocks/ Jacks
Locomotive crane
Elevators
Gantry crane.
Ladders
Here i have share photograph of above types.
Deric – Pole
Tower crane
Gin – Pole
Shear leg
Winches.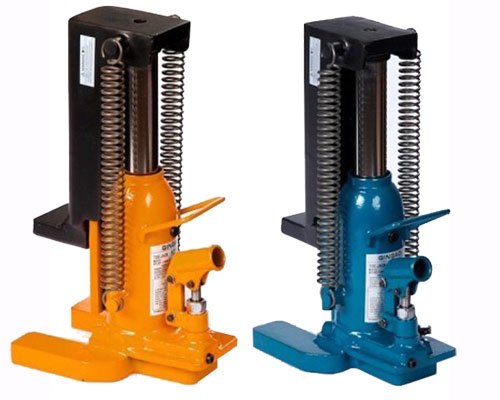 Bocks/ Jacks
Locomotive crane
Elevators
5)Conveying Equipment's
Conveying Equipments are classified as below..
1.Belt conveyors
2.Buckets
3.Chutes
4.Buggies
1.Belt Conveyors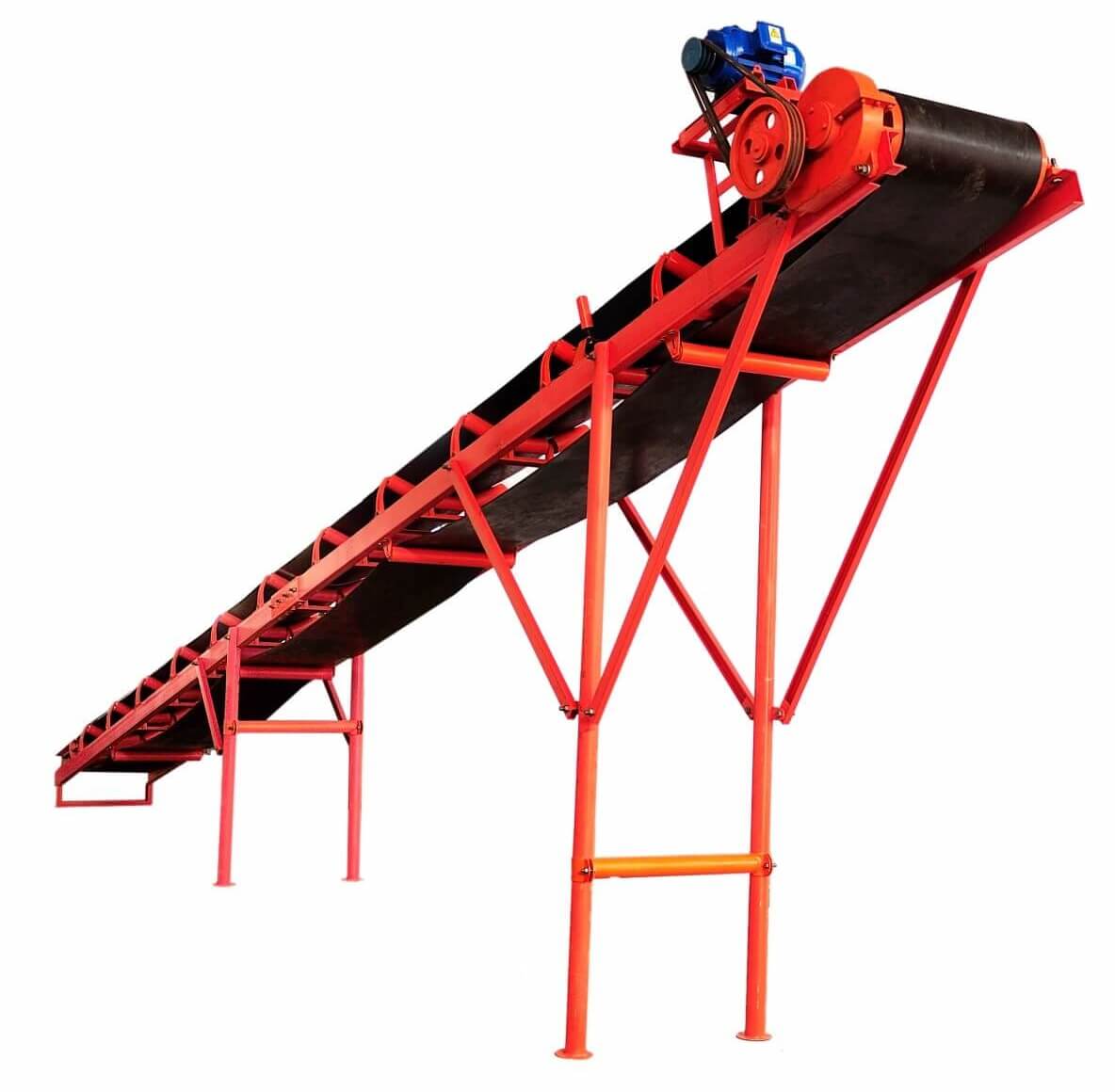 Belt Conveyors
Belt conveyor is used to convey sand, cement, grit, concrete, at a consistent rate. Belt conveyors are more convenient for long-haul freight. There are economical for large quantities and distance.
2.Bucket Conveyor
Bucket Conveyor
This type of conveyor is used to carry material horizontally and diagonally. The bucket is filled with one place (point feeding) or bucket Fill yourself up when going through the material. If the bucket is filled in manually, it is called drag feeling.
3.Chutes
Chutes
The chute is used for carrying concrete from high level to low level. The bottom should be round and its slope should be wide enough to allow the concrete to flow continuously without being concentrated.
4.Buggies
Buggies
Buggies is used for carrying concrete. It has a capacity of 4 to 9 cubic feet of concrete. A smooth road is required to operate it. Buggies walks by hand or motor.
6)Pumping Equipments
There are two type of pumps
1.Water pumps
2.Concrete pumps
1.Water Pumps
A pump is a device through which water (liquid) is in the pipeline flows or can be elevated.
Types of water pumps
1.1 Reciprocating pumps
Reciprocating pumps
This type of pump offers a constant discharge with changing heads. A piston operates in the cylindrical cell. From the forward stroke of the piston, its create vacuum in the cylinders so that is lift water from ground tank and delivery to overhead tank.
1.2 Centrifugal pump
Centrifugal pump
It is a device in which the fluid rises as the centrifugal force is generated by the wheel. This wheel is called an impeller. The water injected into the pump rotates very fast with the impeller and the water is thrown away by centrifugal force.
2.Concrete Pumps
Concrete Pumps
Concrete pump is used to transport concrete from one place to another with a pipe. In which steel pipe is used. The diameter of a steel pipe is 15 to 20 cm. Maximum Aggregate Size 7. This method is more convenient for tunneling lining.
7) Compacting Equipments
Compacting Equipments are classified as below
For earth compaction
Smooth Wheel Rollers
Sheep Foot Roller
Pneumatic Rollers
Grid roller
Tamping Roller
Vibrating roller
Vibrating plates
Vibratory compactors
for concrete compaction:
Internal vibrator
Surface vibrator
Platform vibrator
Form vibrator
1.Smooth Wheel roller
Smooth Wheel Rollers
These rollers can move back and forward without taking turns. These rollers are suitable for sand, gravel, broken rock, etc. Such rollers are useful for crushing highway base courses and for finishing clay surfaces.

2.Sheep foot roller
Sheep foot roller
This type of roller has a metal hollow cylindrical over which sheep legs of 0.2m length are fitted, so that the process of kneading the soil during rolling is due to pressure from its sheep feet. Weight of dum is about 5 ton to 10 ton.

3.Pneumatic Rollers
Pneumatic Rollers
This type of roller varies from small size roller to 203 tonnes of capacity. This type of roller used for kneading action.This roller is useful for both cohesion-less sand and gravel as well as clay soil.

4. Vibrating Rollers
Vibrating Rollers
This type of roller produces vibrations in the upper layers of the soil so that the grains of soil are compacted

for concrete compaction:

1)Internal Vibrator
Internal Vibrator
This vibrator is also called Needle vibrator.
Needle diameter varies from 20 to 75 mm and 25 cm to 90 cm in length. Such vibrators produce 7000 to 12000 vibrations per minute.
2.surface vibrator
This type of vibrator consists of one or two electric vibrating units mounted on a flat plate, this flat plate being placed on the surface of the concrete. The vibration of the plate produces vibration in the concrete below, such vibrators are used for structures such as concrete dams, retaining wall, bridge pillars, road etc.
3.Platform Vibrator (Table vibrator)
Platform Vibrator
This type of vibrator is fitted with a table. The article that is to be vibrated is placed on the table. Its used in testing units of concrete.
4.Form Vibrator
Form Vibrator
Form vibrator also called an external vibrator or shutter vibrator. Such vibrators are fitted with a clamp on the surface of the formwork. Vibration of formwork causes the inside vibration of the concrete.
8)Pile driving equipments
Pile driving Equipment are classified as a..
1. Pile frame
2.Pile hammer
3.leads
4.winches
1.Pile Frame
Pile Fame is used to keep the pile in the correct position. Pile frame is usually made of steel and it height is about 10m to 25m. Pile Frame should be lightweight.
2.Pile Hammer
Pile Hammer
Pile hammer are used to penetrate pile in ground.
Type of pile hammer
Drop hammer
single – acting steam hammers
Double – acting steam hammers
Differential – acting steam hammers
Diesel hammers
Vibratory hammers
3.Leads
4.winch
winch
The winch is used to lift a hammer and pile. It is powered by a steam, diesel engine or electric motor.
9)Machineries for concrete works
For batching and mixing of concrete following Equipments are used.
1. Batch mix plant
2. Transit mixers
1.Batch mix plant
Batch mix plant
Batching is the process of gathering the required amount of material shocks, such as course aggregate (C A), fine aggregate (F A), cement and water. Batcher is used for batching.
2.Transit mixers
Transit mixers
This type of mixers is used when delivering freshly mixed concrete from central batch and mixing plants to other locations. Fully mixed or partially mixed concrete is delivered to the site by truck mixer
To keep fully mixed concrete, the drum is rotated continuously, so that segregation not take place
10)Machineries for bituminous works
Main Equipments used for bituminous work are..
1.Batch type hot mix plant
2.Paver
1.Batch type hot mix plant
Batch type hot mix plant
This type of plant is used to obtain bituminous of high quality for large work. This is a modern type of plant. This type of plant is almost permanent.
2.Paver
Paver
Paver is used to achieve a clean, strong and level surface of bituminous road. The chamber of paver accept the quantity of asphalt concrete from the damper.The bottom of the chamber has a slot adjustable to accommodate the fixed thickness of asphalt concrete. Usually the width of the paver is the same as the traffic lane. however, it has the capability to reduce it as needed.
11)Dredging Equipment
Dredging Equipments are used to remove soil, sediment, debris, etc. Which is deposited at the bottom of the sea, river, lake, canal, etc.
The different types of Dredging Equipments are as follows
1.Bucket – ladder dredgers
2.Grab dredgers
3.Dipper dredgers
1.Bucket – ladder dredgers
Bucket – ladder dredgers
This type of dredger consists of a continuous chain mounted on a ladder. Buckets are attached to the chain. As the chain is constantly rotating, the bucket is filled with mud. The mud is placed in a hopper which is placed in a ship.
2.Grab dredgers
Grab dredgers
In this type of dagger, a grab is hanged with a rope from a large pontoon. Grab is open in normal mode. It is lowered to the bottom of the water and inserted into the mud so that the sludge is filled with grabs. The grab is then closed and lifted with proper adjustment. The grab is operated by a crane. This type of dredger is used for cleaning sand, dirt, mud, etc.

3.Dipper dredgers
Dipper dredgers
It has a revoling boom fitted with a frame in a large pontoon. The dipper stick attaches boom and bucket. Dipper stick apply pressure on bucket so that bucket will fill with soil/silt. This type of dredgers are useful for hard soil.
______________________________________________